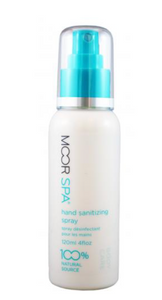 With everyone needing to sanitize their  
hands dozens of times each day for the forseeable 
future, it will be important to use a product with 
both effective anti-microbial properties and 
soothing and moisturizing ingredients. 
In addition to 70% corn-derived ethanol, our 
sanitizer also includes our Western Red Cedar Leaf 
Oil - proven to de-activate a wide range of bacteria 
and viruses. Once the ethanol has sanitized the skin 
it will evaporate leaving a residue of the Cedar Oil. 
A combination of Aloe Vera, Glycerin, Moor Extract 
and Vitamin E both hydrate and soothe the skin 
- helping to prevent the harsh drying effects of 
repeated exposure to alcohol.
to help keep the hands fresh and clean.